COVID-19 UPDATE
To All Our Periodontal Patients, Family and Friends,
A big "thank you!" to all of our patients and families for adapting to our COVID protocols since 2020. We know that the added step of completing a screening form for each appointment can be tedious, but your careful efforts have helped us reduce the spread of coronavirus while we can continue caring for you in a safe manner during this global pandemic. As healthcare providers, the safety of our patients and team is our first priority, and our practice will continue to follow the guidance of the CDC and the American Dental Association.
Please Note:
All patients will be pre-screened prior to their appointments.
Masks are optional at this time.
There will be hand sanitizer for when you walk in and when you leave.
If you or someone you have had contact with has coronavirus or is demonstrating symptoms of coronavirus, we ask that you wait the suggested quarantine time before you come in for an appointment.
We know this can slow down our check-in process, but we feel it is still very important to our continued ability to treat you safely. We appreciate your smiles and kindness as we journey forward on this road to better overall health. We will keep you informed.

We look forward to seeing you!
F. Neal Pylant, D.M.D. and Staff
---
We encourage you to contact us whenever you have an interest or concern about gum disease, our periodontal services, or dental implants.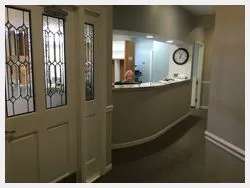 To contact us by mail, please send your correspondence to:
F. Neal Pylant, D.M.D., P.C.
Hawthorne Professional Park
375 Hawthorne Lane
Athens, GA 30606
To contact us by telephone or fax, our numbers are:
Toll-free number: 1-800-822-4632

Or contact us using the form below