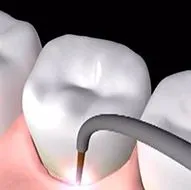 LANAP® ( laser-assisted new attachment procedure) is a laser-based treatment for Gum Disease . The LANAP protocol is a patented periodontal treatment cleared by the FDA in 2004 for the treatment of gum disease. The procedure can only be done with the PerioLase® MVP-7™. This dental laser, which operates at a specific wavelength, vaporizes the bacteria that contribute to gum disease while leaving healthy tissue intact.
With the LANAP protocol, there is no cutting and suturing. Compared to traditional periodontal surgery, patients typically report less pain and discomfort during and after the LANAP procedure. It is a patient-friendly procedure that helps patients get healthy again comfortably. Generally, the LANAP protocol is less invasive than traditional surgery, and it helps maintain a beautiful smile line. Post-surgical recession and tooth sensitivity (which can be significant following traditional gum surgery) are greatly reduced as well. Also, because of the gentle nature of the procedure, patients typically see immediate results with less bleeding when brushing and less bad breath. Of course, the gums will need time to recover and heal, but after LANAP treatment, most patients can immediately return to their daily routine.
Who is a candidate for LANAP laser surgery?
Patients with moderate-to-severe gum disease can especially benefit from the LANAP protocol. The LANAP protocol is also an excellent treatment option for patients who are fearful of conventional scalpel surgery and patients taking certain medications, such as blood thinners. With the LANAP protocol, patients do not have to stop taking any medications.
Can the LANAP protocol help ailing implants?
Yes! Using the PerioLase MVP-7™, ailing or failing implants can often be saved in a similar manner using the LAPIP™ protocol . The same laser is used, but at different laser settings and light exposure that will help the implants stabilize while destroying periodontal pathogens and endotoxins.
Some of the primary benefits of LANAP periodontal surgery as compared to traditional surgery are:
Less pain
Less bleeding
Less sensitivity
Less gum loss
Less swelling
Very little downtime after treatment
Less Post-op infections
Promotes regeneration of supporting gum tissues
Healing is perceived to be faster and more comfortable than conventional surgery
The LANAP® and LAPIP™ protocols can ONLY be performed by a dentist who is certified in the procedures and Dr. Neal Pylant is certified in both.

If you have any of the following and would like more information about LANAP® or LAPIP™, please give us a call at (706) 543-0026 .
Gums that are red, swollen, and bleed easily
Gums that seem to have pulled away from the teeth
Bad breath or halitosis
Pus between your teeth and gums
Teeth that seem to be loose or moving away from one another
Change in the way your teeth fit together when you bite
Change in the way your partial denture or implant-supported restorations fit
Ailing implants
Or no symptoms at all!
LANAP Protocol - laser gum disease treatment ( ENGLISH )
LANAP Protocol - laser gum disease treatment ( SPANISH )