Dental Implants In Athens, GA
Prior to the development of dental implants, dentures were the only alternative to replacing a missing tooth or teeth. Dental implants are synthetic structures that are placed in the area of the tooth normally occupied by the root. They are made of a biocompatible material (titanium oxide alloys). The implants are anchored to the jawbone or metal framework on the bone and act as a foundation for an artificial tooth or permanent bridge. In some cases, implants can be used to attach dentures.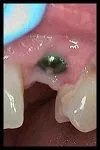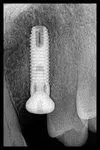 While dental implants are not for everyone, they are highly successful for most people. For a successful implant to hold, a candidate must have proper bone density and a strong immune system. As with natural teeth, dental implants require proper oral hygiene.

Surgery is necessary to prepare the area for a dental implant and placement of the implant into the mouth. Following this procedure, a period of time is required for the implant to heal, and to allow the bone tissue to mature and anchor the device. Later, the implant can be used to anchor teeth, bridges or other prostheses. Like any other restoration, dental implants require proper home care and oral hygiene to ensure that they last.
Are You considering Dental Implant Placement?
Dr. Pylant has over 20 years of dental implant experience. If you are considering implant placement, Request an Appointment for an implant consultation. Dr. Pylant will evaluate you and determine whether you are a good dental implant candidate. If you are, you will be given further information to help you make your decision.

Implant placement is a cooperative treatment between a periodontist and a restorative dentist. The surgical phase is completed in our office, while the restorative phase is completed in your dentist's office.
Before and After Implant Placement

For more examples of various implant procedures, click on the links below:
Interested in Dental Implants from F. Neal Pylant, DMD, PC?
Call us at (706) 543-0026 today!