Gum Graft
Various factors can lead to gum recession (i.e., periodontal disease, aggressive tooth brushing, or other abnormalities). Soft tissue grafts are sometimes used to stop further gum recession or correct the abnormalities. They can also improve the esthetics of the gum line. In some instances, an exposed tooth root can cause severe pain because it is exposed to temperature extremes or different kinds of food and liquids. In other instances, an exposed tooth root may not cause any pain or sensitivity, but it can make one or more teeth appear longer than the others.
Once the contributing factors are determined and controlled, a soft tissue graft procedure can be used to treat the defects and help prevent additional recession and bone loss. In some cases, it can cover exposed roots to protect them from decay. An autogenous soft tissue graft involves taking gum tissue from the palate or another donor site to cover an exposed root in order to even the gum line and reduce sensitivity. An allogenic (aka alloderm) graft is a natural alternative soft tissue graft when a person's own tissue is not used. Soft tissue grafts can be done for one or several teeth. In addition to the different types of tissue that can be used, there are also different soft grafting techniques. Below are examples that have been performed in our offices.
Before & After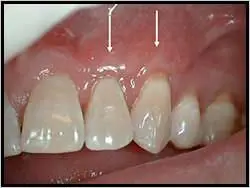 To learn more about specific graft procedures, click appropriate links below:



Looking to get a Gum Graft from F. Neal Pylant, DMD, PC?
Call us today at (706) 543-0026 for more information!