Semilunar grafts are used to try to cover exposed root surfaces. A semi-moon-shaped incision is made in the gingiva (gum tissue). The two corners are left attached. The attached corners allow blood to flow through the graft. The center section of the graft is moved toward the crown of the tooth to cover the root surface. There must be an adequate zone of attached gum tissue prior to performing this procedure. If not, a connective tissue graft is done initially.
Before Surgery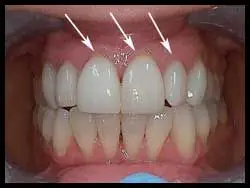 Beginning Tooth Root Exposure
Directly After Surgery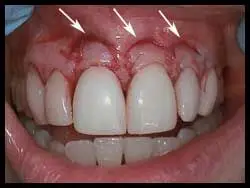 Three Semilunar Grafts
Several Weeks After Surgery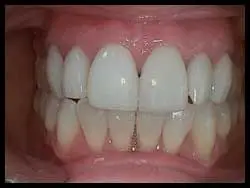 Roots No Longer Exposed
Directly After Surgery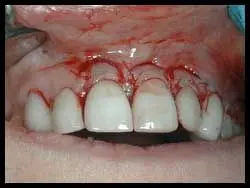 Three Semulinar Grafts
---
Below, the upper front tooth had no attached tissue, so a semilunar/pedicle repair graft was done. A flap of gum tissue (called a pedicle) was partially cut away near the tooth needing repair. Only one edge remained attached. The gum was pulled down to cover the exposed root and sewn into place.
Before Surgery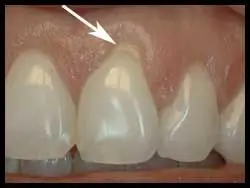 No Attached Tissue
Directly After Surgery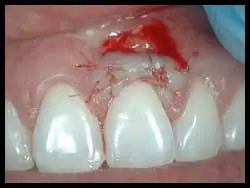 Semilunar/Pedicle Graft
Several Weeks After Surgery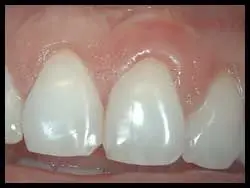 Nice Root Coverage and Repair